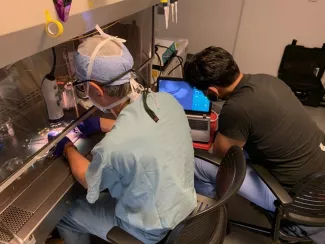 Research into the causes of endocrine cancers and the development of new and better treatments allow many patients to be cured of the diseases. There are currently 350,000 thyroid cancer survivors in the United States, although some of these patients have persistent or recurrent tumors.
UCSF wants to increase the number of survivors and to ensure that each of these survivors is completely free of disease. That is why the Endocrine Surgical Oncology Research Program was established in 1990. The Program focuses on surgical training combined with basic, clinical and translational laboratory research (using new basic science discoveries to improve patient care). Through this Program, UCSF is improving treatment, while at the same time training tomorrow's leaders in the care of patients with thyroid cancer and other endocrine tumors. 
Clinical Research
Medullary Thyroid Cancer & MEN2 Registry
The purpose of this study is to support future studies aimed at factors that might increase or decrease the risk of developing cancer, be used as tests for early cancer detection, or affect patient care. Our blood and tissue bank will serve as a resource that will allow these future studies to be developed.
Differentiated Thyroid Cancer in Children
In collaboration with our pediatric endocrinology colleagues (Maya Lodish MD), we are studying specific genetic mutations in thyroid tumors arising in childhood to better understand the prognostic meaning of such mutations and ultimately develop better treatments for aggressive variants of thyroid cancer.
Amgen and AstraZeneca Clinical Trials
In collaboration with these two drug companies, UCSF researchers have been conducting trials using new "designer" drugs that may give hope to patients with advanced thyroid cancers that are unresponsive to conventional chemotherapy and radiation treatment. Initial results suggest that the drugs cause tumor regression in about 20% of patients and tumor stabilization in about 50% of patients. 
Diagnostic and Prognostic Biomarkers of Thyroid Cancer
UCSF researchers have identified novel diagnostic and extent of disease biomarkers for thyroid cancer. They are conducting a prospective clinical trial to determine the clinical utility of these markers.
Laboratory Research
Thyroid Tumor Invasion Studies
Researchers in the Program are working to understand the biochemical pathways that allow thyroid tumors to invade surrounding tissues and organs. The goal of this research is to find ways to inhibit this process and stop the spread of thyroid cancer.
Genetic Profiling of Thyroid Cancers
Researchers are determining the genetic profiles of thyroid tumors and correlating these profiles with clinical outcomes.This discovery could lead to diagnostic tests that would allow doctors to judge whether a small tumor is likely to cause serious problems. In cases where tumors show a benign genetic profile, patients could be spared unnecessary surgery and lifelong hormone replacement therapy. Identifying specific genetic profiles may also help to develop new therapies. 
Genetic Studies of Familial Non-Medullary Thyroid Cancer
About 5% of non-medullary thyroid cancers are caused by a genetic defect that is passed down through families. So far, this gene has not been identified. UCSF researchers are conducting genetic studies in collaboration with the Department of Human Genetics in order to identify the responsible gene or genes. Finding the specific gene(s) will both aid diagnosis and drug development and improve survival.